Aromatherapy Consultations:
1. Receive up to 15 min complimentary wellness orientation to evaluate whether essential oils could be a good fit for you to support your health and wellness goals (over the phone or in person).

2. Schedule your initial 60 min Wellness Consultation ($95 – includes iTOVi Bioscan). We will review your health history and wellness goals and create a wellness plan incorporating essential oils that are best suited to support YOUR physical health, emotional wellbeing, and help you reach your wellness goals.

3. Get the option to purchase certified pure therapeutic grade essential oils or personalized essential oil blends "made-for-you" taking into consideration your age, health history, allergies or sensitivities, and medications you may be taking.

4. Schedule follow-up Wellness Consultations ($75 one hour; $45 for 30 minutes).



Start incorporating your precious wellness tools into your daily routines and get access to Scarlet's videos and tutorials with fundamentals on using essential oils properly and safely, achieving best results. Scarlet is also available via text, phone and email for brief questions.

It's all about providing education, support, and guidance that makes the difference in the

EXPERIENCE and RESULTS

people have with essential oils.
Appointment Times & Scheduling          
Scarlet respects your time and busy schedule and tries very hard to remain on time with all your sessions. Your courteous understanding regarding the time allotted for your session is most appreciated.
Office Appointments:
Scarlet offers appointments at her Sarasota office location 3277 Fruitville Road, Bldg. C Suite 2, Sarasota, FL.
Travel Appointments:
As a traveling aromatherapist, Scarlet also offers "house calls" for clients and their families (at their home) as well as "business aromatherapy sessions" for companies and health care facilities at their location (to establish convenient wellness sessions for employees or patients).
Schedule Your Appointment Today:
Call or text 1-941-504-1968 or use the contact form provided.
Treat Yourself or a Loved One!
Purchase an Aromatherapy Consultation
Gift Certificate and SAVE 50%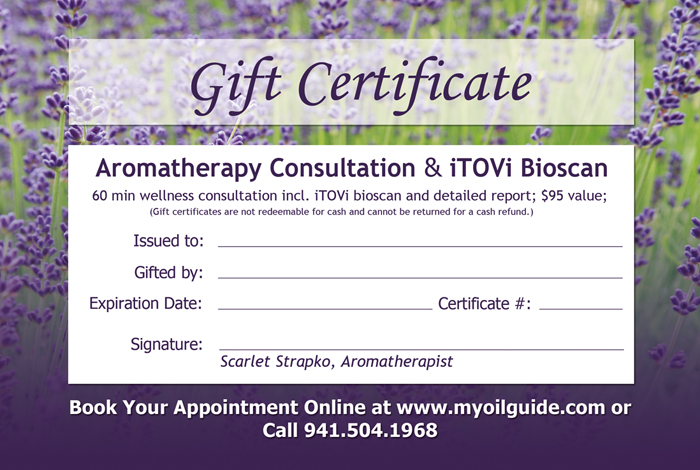 Purchase gift certificate for only $45.
You'll receive your gift certificate in the mail.
Please provide mailing address.