Stress Less, Sleep Better, Feel Better

Simple Instructions
Easy Routines
Powerful Results
Goal: Better Self Care, Emotional Balance
& Renewed Self Belief

 Life can be testing, life can be challenging, we can get so overwhelmed and stressed that we are merely reacting, trying to hold it all together, wondering whether it will ever change or get any easier. You CAN find room to breathe, feel less anxious and calmer, strengthen your resolve, think clearer and turn reaction into action, step into a beginning of renewal and self belief.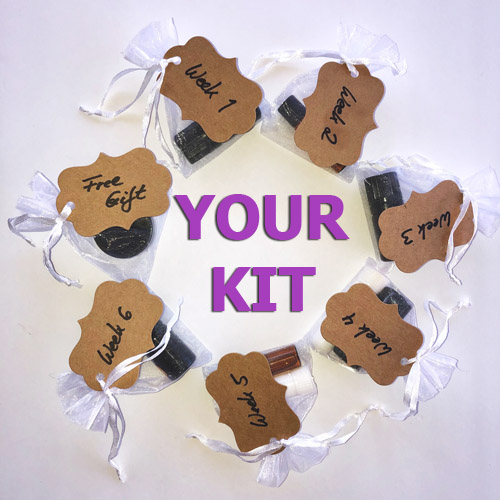 Your Kit comes with:
Four 5ml Essential Oils
Two 5ml Essential Oil Roll-ons
Two Personal Inhalers
& Surprise Gift
Receive your kit and start with one easy routine per week, creating powerful changes seamlessly over the course of 6 weeks — plus free support hotline for any questions and guidance you may need during the course!
Receive one course email per week with valuable information, guidance, and instructions for an easy to implement routine. Over the course of 6 weeks, you'll have seamlessly integrated powerful changes that will help you feel less stressed and overwhelmed, sleep better, feel less anxious and more grounded, have more energy and motivation, think clearer — you'll feel strengthened to turn reaction to life's challenges into positive actions, and step into a beginning of renewal and self belief.
If you've read 'my story', you'll understand my passion for finding solutions to get through challenging times, my dedication to helping people effectively relieve stress, and become emotionally and physically whole again. Goal of this course is create hope, inner strength,  and a profound experience with easy to follow instructions and simple routines, showing even the most busy and stressed person, that powerful changes can happen, that we can soften the waves crushing against us. You can.

2019 The Year of Change, The Year of Possibilities!
New Year's Special $99 (reg. $149) – FREE Shipping

Special Bonus: Any time during the course, and for unlimited time after the course, when you share about your life changing experiences, and a friend, family member or colleague signs up to experience the same benefits, you'll receive a $25 check for sharing hope, for making a difference.