Buy Essential Oils Wholesale or Retail
Quality is key when it comes to essential oils. It directly impacts how effective the essential oil will be and the benefit you will experience. High quality, 100% pure therapeutic grade essential oils are also the safest essential oils to use.
Click here to read a blog post explaining in detail which factors determine essential oil quality.
The essential oils Scarlet uses are of highest quality standards, 100% certified pure therapeutic grade, used by research scientists, nurses and physicians from John Hopkins Medical University Center, Cleveland Clinic, Sloan Kettering, Vanderbilt Medical University Center, and many other professionals.
If you are serious about your health, don't compromise when it comes to quality. You have the option to purchase single essential oils, essential oil blends, as well as custom made blends, wellness and beauty products made just for you,  directly from Scarlet, retail or wholesale (saves 25%).
NEW CUSTOMER SPECIAL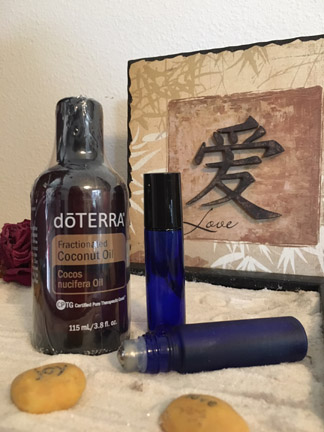 Every new customer who wants to start purchasing essential oils wholesale and places an initial order for $100 in essential oils, will receive a free 4 oz fractionated coconut oil along with 2 glass roll-on bottles with stainless steel roller balls — so you are well equipped from the start with diluting your single oils and creating your own roll-ons to keep in your pocket or purse, for convenient and immediate use.
Feeling overwhelmed when it comes to essential oil choices and how to use them properly? No worries, you'll be guided by me with essential tips and easy to follow instructions, making it simple to integrate essential oils into your daily routines.
Call me at 941-504-1968 or use the contact form provided.
I'm excited for you to get started!