Essential Oils & Aromatherapy Courses for Yogis & Yoga Instructors
Yogis and Yoga instructors LOVE therapeutic grade essential oils as they support the same goals as yoga, aiding the body to heal itself. Incorporating essential oils into yoga practice, deepens the physical and emotional benefit of yoga poses, strengthens the connection to body and mind, deeply rooting the spiritual connection to nature itself.
Many yoga instructors and yogis are seeking a deeper understanding and better integration of essential oils into their practice to support grounding and centering, letting go and surrendering, breath awareness, cultivating gratitude, balancing chakras, and spiritual nourishment.
Appropriate use of essential oils can help ease anxious feelings, uplift emotions, boost inner strength and resilience, soothe muscles and joints, and allow for deeper stretches and a deeper experience.
Explore the secrets to matching the right essential oils and application methods for your desired Yoga goals with my "Yoga Teacher & Yogis Aromatherapy Course". Learn how to create your own custom blends supporting desired benefits, become a trusted resource for questions about essential oils, boost your personal emotional and physical wellbeing, and have fun in the process!
For limited time only, access "Unit 1 – Introduction: Answering Important Questions" free online!
Simply fill out the form below to receive a link and be sure to sign up for my next course experience.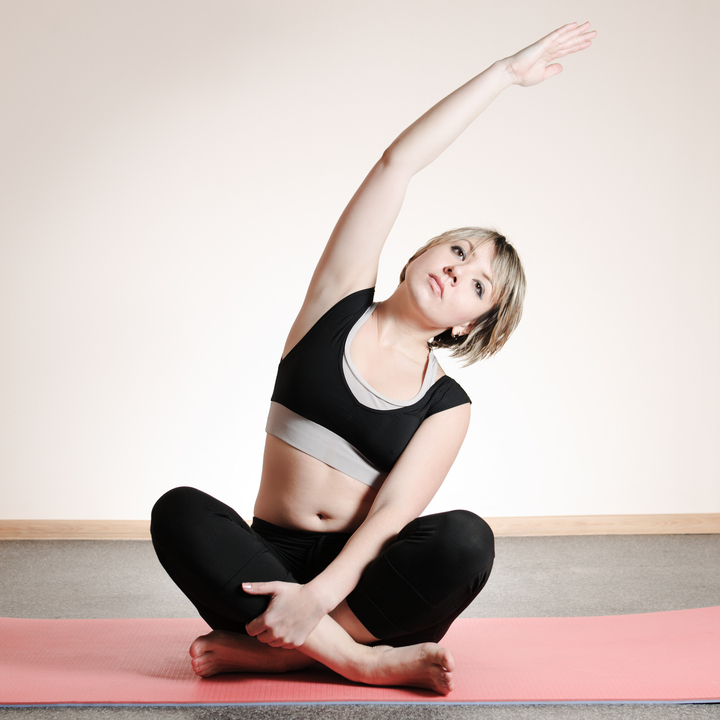 Want to integrate essential oils into your yoga practice?
I'd love to support you with selecting the right essential oils for your yoga practice and students. Select from individual oils, special yoga blends or inquire about custom made blends to support particular poses or sessions. Just contact me.
Find out more about the Yoga Kit
Anchoring & Steadying Blend
This blend restores a firm trust in yourself, provides calming strength, helps you feel centered and grounded, and instills emotional harmony. Contains Lavender, Cedarwood, Sandalwood, Cinnamon, Frankincense, Black Pepper, and Patchouli essential oils in a base of Fractionated Coconut Oil.
Apply to ankles, base of spine, and bottoms of feet to promote feelings of completeness and calmness. Enjoy the aromatic benefits whenever you are feeling scattered or uprooted. The perfect yoga poses to pair with this blend are Seated Meditation, Seated Twist, and Bhu Mudra (one hand on the heart, the other on the Earth). Can be used during yoga practice or any time during the day.
Centering Blend
This blend supports simple centering yoga poses can creates a new sense of peace and purpose, trust in yourself, leading to a renewal of resolution. Use this blend when you feel disconnected or unable to control your circumstances. Remember your own worth and remain steady in yourself is a daily practice. The blend contains Bergamot, Coriander, Marjoram, Peppermint, Jasmine absolute, and Rose essential oils in a base of Fractionated Coconut Oil.
Apply over heart, wrists, and back of neck to promote feelings of self-acceptance and fluidity.Enjoy the aromatic benefits whenever you are feeling apathetic and unfocused.Ideal yoga poses are Warrior II, Triangle, and Gate pose. Can be used during yoga practice or any time during the day.
Enlightening Blend
Challenges and discouragement are not uncommon as you strive to accomplish goals and realize dreams. With daily practice of affirmations and uplifting yoga poses and joyful aromas, you can move past these obstacles. This blend supports your stability, feeling of freedom, courage and happiness in your heart, and endurance for your body. This blend contains Grapefruit, Lemon, Osmanthus, Melissa and Siberian Fir essential oils in a base of Fractionated Coconut Oil.
Apply to temples, wrists, and neck to promote feelings of happiness. Enjoy the aromatic benefits when you are challenging yourself to achieve the next level. Use this blend while practicing the following yoga poses: standing, arms high and standing side stretch, and Half Moon. Can be used during yoga practice or any time during the day.
Purchase Your Yoga Kit for only $54
NEW: Yoga Lotion & "Be You" Aromatherapy Bracelet
This special 1 oz yoga lotion increases circulation, allows for deeper stretches, and supports the muscles and joints.  "Be You" aromatherapy bracelet with African fire agate, carnelian agate, hematite, and lava beads helps support inner strength, courage, and self belief.  Also, check out "Poppy – Be You" essential oil blend.
Yoga Lotion & "Be You" Aromatherapy Bracelet – FREE Shipping!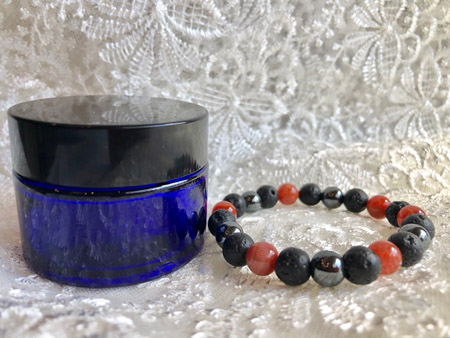 Balancing Chakras with Essential Oils

Chakras are flowing energetic vibrations associated with emotional and spiritual energy, linked and in tune with each other. When one or multiple chakras are blocked or unbalanced, physical, mental and spiritual wellbeing is affected. Pure therapeutic grade essential oils have inherent energetic vibrations with the ability to assist in opening and balancing energy flow, aiding in restoring harmony to the chakras.
Balancing Chakras Essential Oil Kit
contains seven Essential Oil Roll-ons – SAVE 26% compared to buying them individually

Root Chakra Essential Oil Blend (10ml Roll-on):
100% Certified Pure Cedarwood, Vetiver, Patchouli, Basil, and White Fir Essential Oil blended with fractionated coconut oil
Sacral Chakra Essential Oil Blend (10ml Roll-on):
100% Certified Pure Sandalwood, Ylang Ylang, Clary Sage, Bergamot, and Wild Orange Essential Oil in fractionated coconut oil
Solar Plexus Chakra Essential Oil Blend (10ml Roll-on):
100% Certified Pure Spikenard, Ginger, Clary Sage, Peppermint, and Grapefruit Essential Oil blended with fractionated coconut oil
Heart Chakra Essential Oil Blend (10ml Roll-on):
100% Certified Pure Ylang Ylang, Bergamot, Cypress, and Wild Orange Essential Oil blended with fractionated coconut oil
Throat Chakra Essential Oil Blend (10ml Roll-on):
100% Certified Pure Frankincense, Cypress, Geranium, and Eucalyptus Essential Oil blended with fractionated coconut oil
Third Eye Chakra Essential Oil Blend (10ml Roll-on):
100% Certified Pure Vetiver, Frankincense, Marjoram, Juniper Berry, Cypress, and Clary Sage Essential Oil blended with fractionated coconut oil
Crown Chakra Essential Oil Blend (10ml Roll-on):
100% Certified Pure Sandalwood, Frankincense, Lavender, Lemon, and Rosemary Essential Oil blended with fractionated coconut oil