Sarasota Essential Oils – Sarasota Aromatherapist
Wellness Consultations – Classes – Workshops
Essential Oils Support Physical & Emotional Wellbeing

"We are not at the mercy of our emotions,
nor a prisoner to our body,
we are warriors and liberators
when armed with the right tools."

My name is Scarlet Strapko, I'm an Aromatherapist from Sarasota Florida, offering wellness services and personalized aromatherapy products to support physical and emotional wellbeing for people of all ages. Having lost my husband and best friend to cancer before I became an Aromatherpist, I'm deeply passionate in particular about educating others on the effects of stress on the body, brain and emotions. Stress can be the root cause or huge contributing factor to many illnesses, so tackling that root cause is an important step towards living a better and happier life, and experience sustained benefits.
Please contact me for a
private consultation
,  teaching a class or workshop in your area, offering a presentation at your workplace, organization or club. As a traveling Aromatherapist I'm offering regular services in FL, CA, NC and NY.
Can't wait to support you on your personal journey to create positive change in your life!
Wishing Peace & Wellness,
Scarlet Strapko
Aromatherapist & Stress Relief Coach
Aromatherapy Wellness Consultations, Classes, Workshops & Personalized Essential Oil Products
| | |
| --- | --- |
| | Take Time for You! |
Holiday Special
Treat Yourself or a Loved One!
Purchase an Aromatherapy Consultation
Gift Certificate for more than 50% Off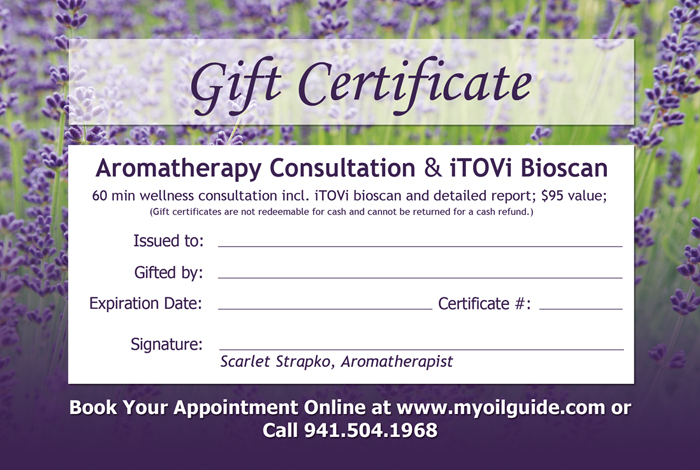 You'll receive your certificate in the mail along with a FREE Holiday Joy Aroma Inhaler!
So what can we use Essential Oils for?
Essential oils are commonly used to support

the immune system, muscles and bones, the nervous system, the digestive system, the respiratory system, emotional balance, the cardiovascular system, circulatory functions, the hormonal system, as well as skin and hair, weight management, stress management, and many other health and wellness areas.

All uses and applications mentioned on this website reference the use of

100% pure, medicinal grade essential oils

. How effective and safe an essential oil is in supporting health and wellness, very much depends on its quality. Unfortunately, many companies sell low quality grade essential oils which are adulterated and can contain harmful chemicals, toxins, pesticides or synthetic components.
Blog Post
Quality is key when it comes to essential oils. It directly impacts how effective the essential oil will be and the benefit you will experience. High quality, 100% pure therapeutic grade essential oils are also the safest essential oils to use.
If you are serious about your health, don't compromise when it comes to quality. There are several factors you should be aware of before using any essential oil. Where did the plants grow that are used to make the essential oil? How were they cultivated (organic farming vs. treatment with pesticides and herbicides)? Are they harvested properly and at the right time? Which distillation method / extraction methods were used? Are the essential oils being tested? The essential oils I use come from plants that are grown in their indigenous environment (and without use of any pesticides or harmful chemicals), harvested properly and at the right time, and are either steam distilled or compression extracted. EVERY BATCH of essential oil is tested with Gas Chromatography, Mass Spectrometry, FTIR, Refractive Index, Optical Rotation, Specific Gravity, Organoleptic testing, Stability testing, Heavy metal testing, TPC/Microbial testing, Pesticide analysis, Chiral GC, Istope Carbon 14, Biochemical Pairing (ARC Plots), Taxonomy, VOC (volatile carbon analysis), Thin Layer Chromatography, and LC/LCMS. This rigorous testing ensures that every essential oil bottle is 100% pure, medicinal grade and that every drop from every bottle has the same potency and consistency.
All these steps ensure essential oils are consistent in their potency and safe for us to use. Just contact me and I'll be happy to email you more information about the essential oils I use. You can purchase through me and also receive custom blends made just for you! This way you can ensure that the blend is appropriate for your age, any chronic conditions that have to be considered, other medication you might be taking, appropriate dosage and delivery method.
Working with an aromatherapist will ensure that your experience with essential oils will be positive and rewarding.